Tragedy to Triumph – First Accident in 1996
After traveling in two RV's for over 2,000 miles through the U.S.A. from Duluth, Minnesota to Orlando, Florida, the Doug Stanton ministry team conducted a very successful revival in Winter Haven, Florida. Night after night God's presence fell in a mighty way as lives were impacted by God's manifest reality. Many healings were reported, including a dramatic moment as a precious lady rose from her wheel chair and began to walk around the altar as her husband stood holding the wheel chair with tears rolling down his face.
Needing to be in Fort Lauderdale the next day, the team decided to travel through the night after completing the meeting on Sunday, the 25th of August 1996. At 3:30 A.M. on Monday, the 26th of August, Doug fell asleep at the wheel only 30-40 minutes from the destination.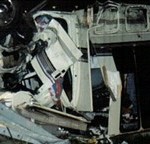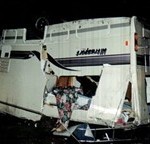 Colin was following Doug in the second RV, and noticed Doug's RV moving to the right as if to take an exit.  But the RV missed the exit and plowed straight through the big exit sign.
Doug awoke, startled with the noise, and seeing the highway to the left, he made an attempt to get back, but it was too late! The 30-foot long RV began to tip sideways and rolled onto its side, hit the steel guard-rails at over 50-mph and rolled over onto the top, coming to a sudden halt upside down. Colin, realizing what had happened, shouted to the rest of the team to "Wake up NOW," and then all ran to the wreck. "As I approached the wreck I thought Doug would have been killed," said Colin. Doug said "When the RV stopped, the first thing I could hear was Daniel screaming out, and I made my way to him, in shock and unbelief at what had just happened to us.
At that point I couldn't hear Karen or Krystal or Sharna. Daniel was hanging upside down with blood streaming from his head. I held him and hoped to release him from his seat belt and look for the rest of my family. By this time, Mac was inside and after releasing the seat belt, we realized Daniel's left leg was pinned in the crushed metal. I called to Colin to find the girls, as I could not hear or see them. Colin pulled the side of the van off and began to pull the girls out. I first I saw Krystal get out – then Sharna, both able to walk from the wreck that had squashed all around them. I then saw Karen crawling out through the side of the van and a great sense of relief hit me as I realized finally, we had all survived the crash. They were the longest and worst minutes of my life as I held and supported Daniel until the rescue men arrived.
Though I knew we had escaped death, I felt helpless as Daniel began to cry out for God "Oh God please help me! " In these moments that seemed an eternity, it seemed that my prayers and my efforts were just not enough. It's only in hindsight I realize that God had responded to our need even before we cried out. 'The accident was just five minutes from West Palm Beach Rescue and five minutes from best trauma hospital in Florida. Rescue Men Arrive: What a relief it was to hear the sirens of the rescue vehicles. They quickly assessed the situation and began to carefully cut twisted metal to release Daniel's leg with the "Jaws of Life."
Daniel was in so much pain – it broke my heart. The pain I was feeling as a father was so severe as I held my son and felt his precious blood running all over me. I have a greater appreciation of how Father God must have felt as His Son's blood was shed in pain. Finally his leg began to release. In the harsh glare of the spotlights, I looked at his leg coming out of the metal's grip. I was completely shocked at the size of the wounds. I covered Daniel's eyes from the massive injuries in his leg. He came down into my arms and I realized his left leg was also badly broken above the knee. After some 20 minutes, I tearfully told him that he was going to be all right and handed him to the rescue men. We were all strapped to boards and placed in three ambulances for transportation to the emergency room at St. Mary Hospital, in West Palm Beach.
My feelings of helplessness continued as I was strapped to another board in the emergency room beside Karen, who was obviously in pain. Krystal and Sharna were having x-rays somewhere, and I could hear Daniel screaming out in pain in the next room. There was nothing I could do. By the grace of God, we made it though the accident. Karen had been thrown from the back of the van towards the front as refrigerators, microwaves, cupboards and canned food hit her from every direction. The muscles in her back were badly strained. She said "It felt like 10 people were hitting me with baseball bats." Krystal and Sharna had been pinned in their bed above the cab of the RV. They sustained only minor cuts and bruises. I had broken the steering wheel with my chest and was cut and bruised. None of us sustained neck or back injuries, which is amazing for this type of accident.
Daniel's injuries were considerably worse. He was in surgery with three specialists for over six hours. We were advised they were the three best in their fields. "THANK YOU, GOD!" Daniel's jaw was broken in two places, and a total of nine teeth smashed out in the front of his mouth. His jaw has been repaired with metal plates and wired together for 4-6 weeks. His left leg was broken above the knee. We were given the choice of a full body cast and two and a half months in the hospital, or a new gadget, called a "fixater," which holds the bones together using four large pins screwed into the bone from the outside. We chose the latter under the specialist's recommendation. Daniel's lower left leg was ripped open to the bone down both sides above the ankle and right around the back of his ankle. The Achilles tendon was exposed and damaged, but not cut. THANK GOD!!! The plastic surgeon skillfully repaired this, using over 80 stitches. A bone was also broken above his big toe.
As bad as these injuries were, all those who saw the wreck were amazed that he was not injured more as his seat was broken and crushed by the impact. At the time of writing this, Daniel has recovered miraculously. From the moment prayer started around the world, we could virtually see the progressive change in Daniel. The three specialists all have said to us, that Daniel healed amazingly fast and way ahead of the normal period for such injuries. THANK YOU, LORD JESUS! ! ! Some may say the devil attacked us, but I don't believe that for a minute. He is defeated, and he will get no glory from me. I fell asleep and ran off the road. It is my mistake, and it caused an accident, but OUR GOD was there to preserve our lives against all odds, and for that I will forever be grateful and will give Him all the glory.
I know that if it were not for God, we would not be a whole family today. I have tasted disaster before this day, and I have personally known God's intervention to protect and preserve my life on several occasions, as I have always testified. Even so, it is awesome to know my heavenly Father has not only protected me but my whole family from certain death or permanent injuries. I am so glad we have chosen as a family to put our trust in Him, for no one else could determine the outcome of an accident like this.
"God is our refuge and strength, a very present help in trouble"
Psalm 46:1
In 2006, Sharna Stanton was involved in another major RV accident while traveling with her family and the DSMI Team.
To read an account of this accident, click
HERE